Discover more from Who can tell me the truth? (I+V+I = M)
It should be possible in a democratic country to find and defend the truth! -This is what I'm trying to do, sharing occasionally poetry and songs coming from the heart.
Help stop the persecution of City Councillor, who fights for women, children, and families. Please sign the petition. Plus, pictures and videos from #1millionmarch4children that I attended
Related previous post:
Part 1: Eye-witness pictures from #1millionmarch4children
I attended the #1millionmarch4children demonstration against the sexualization of children at Canadian schools held in Ottawa in September. I finally had the chance to upload the photos and videos from this historical event, which was one of the largest in Canadian history. You can find them below.
Please watch them to form your own opinion about it. Do not trust mainstream channels to tell you the truth. I've heard them calling protestors (even before the protests commenced) "haters," whereas, in fact, they were friendly, culturally diverse people—moms and dads with their children—who came together simply to protect their children from the sexualization agenda in Canadian schools. And there were thousands of them all over Canada.
Please take the time to read all the posters and observe all the faces. Note that the protesters did not wear masks, so it was truly neat to see all their so different but nice faces. In contrast, the counter-protesters, who were paid, as we know now, by union members' money and who stationed in a rather small but intimidating fashion on the other side of the street, were mostly in masks. So, you won't be able to see how nice their faces were…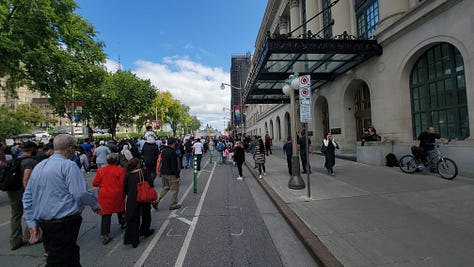 Short (20 Secs): showing posters and protesters at the parliament:
Long (8 mins): showing protesters marching in downtown Ottawa, the rally spreading over a kilometer in length.
Part 2: Help us stop the persecution of City Councillor who fights for women, children, and families.
Also in relationship to #1MillionMarch4Children, please read the following letter in support of one of brave and inspiring City Councellors who was silenced for opposing radical initiatives and defending her constituents' rights.
Please sign the petition to demand Mayor and others support Councellor's right to represent her constituents fearlessly!
Dear friends,
It is genuinely shocking to discover what happens to pro-family politicians who get elected into office in the City of Pickering, Ontario.
Councillor Lisa Robinson, a brave voice for families in Pickering, is under attack for committing a horrendous social justice crime.
She represented her constituents by introducing the following 3 motions to the rest of Pickering City Council:
A motion to prohibit the pride flag flying on Pickering Municipal properties.
A motion to restrict drag story hour events to adults only.
A motion to have a female-only changeroom, a male-only changeroom, and a universal changeroom for families and others.
Since Robinson's proposed motions look out for children, women, and families from the LGBT mob's unstopping advancement upon our society and culture, her fellow councillors and the Mayor of Pickering, Kevin Ashe, froze her pay for 60 days and are working towards silencing her for embodying her constituents' beliefs.
Time is of the essence. 
We must act now before it's too late and the radicals succeed in removing Lisa Robinson from office.
More information:
Durham Region News: Pickering councillor supports informing parents of gender pronoun use in schools
https://www.durhamregion.com/news/pickering-councillor-supports-informing-parents-of-gender-pronoun-use-in-schools/article_a9c4c600-5af4-5a9d-81c1-cf71a4f3181a.html
Durham Region News: Integrity Commissioner to investigate actions of Pickering councillor Lisa Robinson
https://www.durhamregion.com/news/integrity-commissioner-to-investigate-actions-of-pickering-councillor-lisa-robinson/article_35c7bd4a-cd32-57a0-aa5b-4ea724fdb7df.html
Pickering City Council Meeting Oct. 23rd, 2023
Thanks for reading Who can tell me the truth? (I+V+I = M) ! Subscribe for free to receive new posts and support my work.